TAILGATING THE YACTH AT MCCOVEY COVE 2012 RED BULL FLUGTAG. SAN FRANCISCO YACHT CHARTER CO.
by: GivesYouWings.
ENJOY YACHT TAILGATING WITH OTHER RED BULL FANS. FOOD AND LIBATIONS INCLUDED. DEPARTING FROM PIER 39 OFF TO THE MCCOVEY COVE TO DROP ANCHOR AND HAVE FUN A YACHT TAILGATE PARTY
Every single rule in the aviation handbook will be broken when Red Bull Flugtag lands in San Francisco. Watch test pilots redefine air travel when they launch their human-powered flying machines off a 30-foot ramp into the chilly McCovey Cove waters. Mark your calendar and inflate your floaties for Saturday, November 10 2012
Red Bull Flugtag challenges teams of everyday people to build homemade, human-powered flying machines and pilot them off a 30-foot high deck in hopes of achieving flight! Flugtag may mean "flying day" in German, but all these crafts ultimately splash into the waters below. They are judged not only on their flight's distance, but creativity and showmanship as well.
2012 RED BULL FLUG TAG EVENT



MCCOVEY COVE
AT&T Park, San Francisco
SATURDAY 11/10/2012
Pick up at PIER 39 at 10:00 Am Sharp.
Priced Reduced to $149 | GROUP DISCOUNTS

Party cruise boat charter to San Francisco " McCovey Cove" & enjoy RED BULL FLUGTAG EVENT. Cuise to San Francisco McCovey Cove, DEPARTING PIER 39 | Iggy Sky™ SF Bay Area Adventures™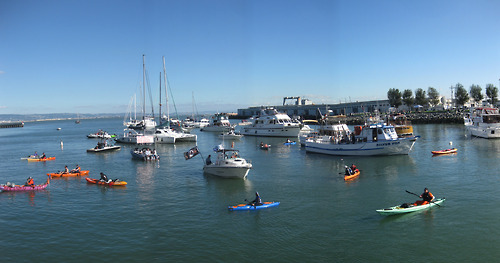 Iggy Sky™ Presents San Francisco SF Bay Area Adventures
Ad PAID BY IGGY SKY™ This ad does not reflect
the opinions or thoughts of the owners of this website.